>>> Kembali ke Daftar Profil Staf Akademik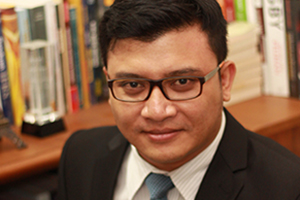 Sigit Pamungkas bergabung menjadi dosen tetap pada Prodi Akuntansi Universitas Islam Indonesia (UII) pada tahun 2010. Sigit menyelesaikan studi S1 Accounting di Department of Business & Economics, International Program UII. Pada akhir tahun 2012, Sigit telah menyelesaikan program pendidikan S2 di University of Western Australia, mengambil studi Master of Commerce (Business Information Management) yang dimulainya pada bulan Juli 2011.
Spesialisasi yang ditekuninya di UWA Business School terkait dengan ilmu dan penelitian di bidang Sistem Informasi Akuntansi, Manajemen Informasi, Knowledge Management System, dan Business Process Management.
Pendidikan
Universitas Islam Indonesia, Sarjana Ekonomi, Program Studi Akuntansi
University of Western Australia, Master of Commerce, spesialisasi pada bidang Business Information Management
Minat Penelitian
Information Systems
Digital Divide & Technology User Acceptances
Knowledge Management Systems
Mata Kuliah
Sistem Informasi Akuntansi
Sistem Informasi Manajemen
Lab Sistem Informasi Akuntansi
Pamungkas, S (2008), Initial trust and adoption of mobile banking: From student perspective in YogyakartaI, Bachelor thesis, Universitas Islam Indonesia, Yogyakarta.
Ikatan Akuntan Indonesia (IAI)
DIKTI Scholarship (Beasiswa LN DIKTI Gelombang V 2011) – Ministry of Education and Culture, Republic of Indonesia