Johan Arifin, SE., M.Si., Ph.D.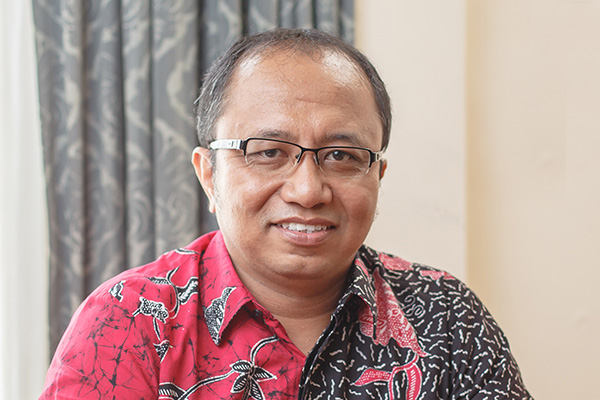 Email: johan.arifin[at]uii.ac.id atau johansmile[at]yahoo.com
NIK: 943120101
BIOGRAFI (Biography)
Johan Arifin menyelesaikan pendidikan sarjana ekonomi di bidang akuntansi di Universitas Islam Indonesia. Pendidikan magister ditempuhnya di Universitas Gadjah Mada. Pada tahun 2014, Johan menyelesaikan program Doktoral bidang Akuntansi dari Curtin University di Perth, Western Australia. Saat ini Johan menjabat sebagai Koordinator Program Magister Akuntansi di Program Pascasarjana Fakultas Ekonomi Universitas Islam Indonesia.
PENDIDIKAN (Education)
SE (Sarjana Ekonomi), Program Studi Akuntansi, Universitas Islam Indonesia.
MSi (Magistes Sains Akuntansi), Universitas Gadjah Mada.
PhD (Doctor of Philosophy in Accounting), Curtin University, Australia.
MINAT PENELITIAN (Research Interests)
Akuntansi Sektor Publik
Public Sector Governance
MATA KULIAH (Teaching)
Akuntansi Sektor Publik
Metodologi Penelitian Akuntansi
PUBLIKASI ILMIAH (Publications)
Journal Articles
Fiscal Policy Disclosure in Indonesia Local Governments, Jurnal Akuntansi dan Auditing Indonesia (JAAI), Vol. 17. No.1, 2013.
The Application of Activity-Based Cost System in Developed Manufacturing Company, 1995, Siasat Bisnis Journal, ISSN: 0853-7666.
The Role of Database System in Company Management Information System, 1997, Siasat Bisnis Journal, Vol. I No.5, ISSN: 0853-7666.
The Implementation of Financial Management in the University, 1998, Journal Accounting and Auditing Indonesia (JAAI), Vol.2 No.1, ISSN: 1410-2420.
Optimalizing The Role of Accountant in Developing the Information System of Computer-based Accounting, 2000, Aplikasi Bisnis, Vol.1 No.1, ISSN: 1411-4045.
The Corruption and Efforts for Elimination through Strategy in Accounting Field, 2000, Media Akuntansi, ISSN: 1410-0886.
Strategy in Improving Telecommunication Industry in Indonesia, 2001, Optimum Journal, Vol.1, No.2, ISSN: 1411-6022.
Forensic Accounting: Efforts and Strategy to Eliminate Corruption in Indonesia, 2002, Aplikasi Bisnis Journal, ISSN: 1411-4045.
Strategic Response of Banking Company in Facing Globalization, 2002, Akuntansi and Bisnis Journal, Vol.2, No.1, ISSN: 1412-0852.
The Relationship of Competitive Strategy Typology, Information Technology Establishment, and Company Size with Strategic Response in Facing Globalization in Indonesian Banking Company, 2002, Journal of Accounting and Auditing Indonesia (JAAI), Vol.6 No.1, Accreditation Dikti No: 53/DIKTI/Kep/1999.
The Impact of the Change in Rupiah Currency and Dow Jones Exchange Index in New York Stock Exchange towards Corporate Exchange Rate Index in BEJ, 2003,Wahana Journal, Vol.6, No.1.
Information System of Public Management: The Role of National and Regional Information System in order to Construct a Good Governance, 2003, Media Akuntansi Journal, ISSN: 1410-0886.
The Influence of Participation in Budget Arrangement towards Work Quality and Work Satisfaction, 2004, Sinergi Journal, Vol.5, No.1, ISSN: 1410-9018.
The Role of Information System in Creating Competitive Excellence through Technological Transformation, 2005, Sinergi Journal, Vol.7, No. 2, ISSN: 1410-9018.
The Influence of Fiscal Stress towards Finance Quality of Regional Government, 2006, Journal of Public Sector Accounting, Accredited.
The Influence of Society Participation and Public Policy Transparency towards the Relationship between the Council's Knowledge on Budget and Regional Finance Watch, 2006, Business and Accounting Journal, Vol.8, No.2, Accreditation No. 39/DIKTI/Kep/2004.
The Influence of the Characteristics in the Style of Budget Arrangement towards Cost Efficiency, 2007, Sinergi Journal, Vol.9. No.1, Accreditation No: 55/DIKTI/Kep/2005.
Conference Papers
Indonesia Local Government Financial Reporting: Java Dominates. Presented at The 35th European Accounting Association Annual Congress (6th-8th May). Paris. France. (2013).
Adherence to the Law: Accounting Compliance of Local Governments in Indonesia. Presented at Curtin Business School Doctoral Colloquium 2013 (1st-2nd October). Perth, Australia. (2013).
Isomorphic Pressures Influence Mandatory Disclosure of Local Government Financial Statements in Indonesia. Presented at The Accounting and Finance Association of Australia and New Zealand Doctoral Symposium (26th-29th June). Melbourne, Australia. (2012).
Mimetic Pressures Influencing Mandatory Disclosure of Local Government Financial Statements in Indonesia (2012), AAA Annual Conference, Washington DC, USA.
An Investigation of Fiscal Policy Disclosure (2012), AFAANZ Annual Conference, Melbourne, Australia.
The Impact of Governance on the Informativeness of Local Government Financial Report: Evidence from Indonesia (2010), The International Conference on Business and Economics, ISSN: 2086-4043.
KEANGGOTAAN PROFESIONAL (Professional Membership)
Data sedang dimutakhirkan
SERTIFIKASI & PENGHARGAAN (Certifications & Awards)
Data sedang dimutakhirkan